Fulfill your hunting dreams at this exclusive Whitetail Trophy Hunting Ranch. Of all the Texas Trophy Whitetail Deer Ranches that offer Trophy Whitetail Deer Hunting and Trophy Red Stag hunting on top of the Texas Hill Country.
HOME OF the Wounded Warrior "HUNT OF A LIFETIME".
WSR has an annual donated hunt for a Wounded Warrior we call Hunt of a Lifetime. We offer a 200" class fully loaded 3 day hunt to honor our wounded warriors and those who gave their lives to protect our nation. We also have made arrangements with ROGER RAGLIN OUTDOOR TV show on the OUTDOOR CHANNEL to film and guide the hunt. We are asking for donations to give to the WW Hunter during his hunt to outfit this hunter with everything he /she needs to hunt for the rest of their lives.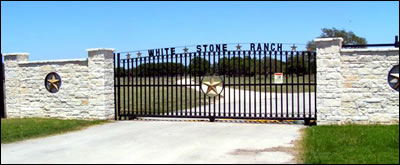 Click Here for WSR Super Trophy Hunt Video 2013
WSR SUPER TROPHY HUNT 2013 from Rowan Smith on Vimeo.
Whitestone Trophy Ranch is the one of the best Hunting Ranches in Texas. Our fantatsic 1,400 acre & 1250 acre high fenced Whitetail Deer and Red Stag trophy hunting ranches are located on top of the Texas Hill Country near Rocksprings, Texas. These two square mile spectacular hunting ranches are where you will have the opportunity to harvest superior trophy whitetails with scores ranging from 130bc to 280bc. Call us for our superior Trophy Red Stag hunts.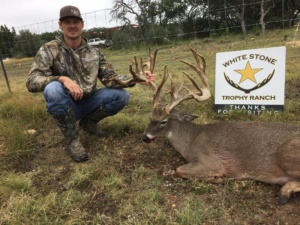 The owners of White Stone Trophy Ranch are avid hunters themselves. They have dreamed of having a deer ranch like this to share with other likeminded folks and now that dream is a reality. Whitetail hunters who have visited Whitestone Ranch come away with great stories and memorable exciting hunts to share with their family, clients and friends. We offer great ranch management and service creating lasting professional relationships. Relax in our Hill Country ranch lodge and enjoy all that we have to make your deer hunting experience memorable for years to come.
Take a moment and look at our Trophy room. Check out our accommodations. We are the best of the Texas Whitetail Hunting Ranches.
We know you will be pleased with your choice to hunt with us. We look forward to your visit.